Investing your money in a high-yield savings account might help you attain your objectives more quickly when it comes to accumulating an emergency fund or saving money for a significant expense, like a down payment on a home.
It's only natural to begin considering ways to improve your financial situation once a new year arrives. An essential first step to long-term financial prosperity and freedom is opening a high-yield savings account. It's excellent if you already have one. It's always a good idea to search for organizations that might provide you with greater possibilities than your existing bank or credit union, though.
Jumping on a new chance and leaving your comfort zone is often necessary for financial savvy. It's also feasible that you want to split the money. Or perhaps you've finally made enough extra cash to start saving for the first time ever. Both are intriguing possibilities!
We want to support you as you make the initial move toward saving more and more wisely. Here is a fast roundup of the best interest-paying savings accounts available in the United States right now. We are not solely relying on the Annual Percentage Yield (APY) for that. When you trust your money in a bank, there are other essential considerations besides the APY. This ranking was compiled after taking into account additional considerations. Other services, FDIC insurance, online reviews, and a minimum balance are among them.
As APYs are subject to change at any time, please bear that in mind. However, as of January 2021, these figures were taken from the leading financial institutions.
Ally Bank
Annual Percentage Yield: 0.50%
Minimum Balance: $0
Despite having a less well-known name than other banks, Ally Bank is quite user-friendly. They make it as simple as they can for you to store, grow, and access your money with no additional fees or monthly minimums. With several of the bigger institutions on our list, an APY of 0.50% is very competitive. Even better, you can open an account and begin 100% remote deposits. Additionally, Ally Bank has Amazon Alexa connectivity, which enables you to transfer money between accounts by simply asking your Alexa suite device. Additionally, they provide checking accounts, IRA savings choices, CDs, and round-the-clock remote help.
The lack of physical locations for Ally Bank is one possible drawback. Therefore, it is not possible to deposit money at an ATM or branch location. You'll need to set up a wire transfer from another institution, a direct deposit from your job, or send a physical check by mail to their Philadelphia offices.
American Express Savings
Annual Percentage Yield: 0.50%
Lowest Balance: $0
With the personal savings option from American Express, you get an APY of 0.50% along with the security of a well-known, reliable company. American Express has more money to invest in education because of its strong brand recognition. On their website, you'll find a ton of material on sound money management techniques. Additionally, they offer support around-the-clock.
AmEx permits up to nine withdrawals every month, which is a wonderful bonus. Most financial organizations limit the number of withdrawals from a savings account to six each month. Because of this, it may occasionally be challenging to set aside money in smaller amounts or cover an unforeseen need.
AmEx is an excellent choice for personal credit and savings, but they don't really offer a useful checking alternative. If you wanted to do all of your banking in one place, this is a minor drawback. Prepaid debit cards are available, but don't mix them up with debit cards that are directly connected to a checking account. You will probably need to use two providers if you depend heavily on your debit card.
Marcus by Goldman Sachs
Annual Percentage Yield: 0.50%
Lowest Balance: $0
The banking division of investing company Goldman Sachs is called Marcus by Goldman Sachs. They provide a savings account with an APY of 0.50%, which is the same as the rates offered by the first two places on this list. Even so, it's still roughly 10 times greater than the 0.05% APY that is currently the national average. Marcus also offers loans and CDs.
Unlike Amex where it gets hard finding a checking option, Marcus eases linking to other financial institutions. This is the most suitable option when opening a second savings account. This account greatly helps if you won't need to access your funds for daily purchases.
Vio Bank
Annual Percentage Yield: 0.66%
Minimum Balance: $100
Vio Bank is incredibly competitive with its APY, which is by far the highest on this list. Additionally, they are totally devoted to being online and excelling at what they do best: CDs, high-yield savings accounts, and staying online. With MidFirst Bank as its backing, Vio is able to Much of what is useful and safe about traditional banking can be done on a specialized online platform. For some people, such a combination is a fantastic choice.
Although the APY is unrivaled, there are a few drawbacks. Vio can't meet all of your online banking needs, though, because it doesn't have a checking service. They have a $100 minimum deposit requirement to open an account, so keep that in mind if you're just getting started with saving. Vio Bank is a wonderful choice to start increasing your savings if you just have a small amount of money on hand to lock up in savings (but at least $100).
Axos Bank
Annual Percentage Yield: 0.61%
Minimum Balance: $
The second entirely online banking option on our list is provided by Axos Bank. However, a few factors are helping it overtake the competition for us. The High Yield Savings Account from Axos offers an APY of 0.61%, which is comparable to Vio's. They do not, however, demand a minimum deposit to start an account. You can start saving right now because of that. Additionally, they provide business accounts and checking accounts with 1.25% APY. Because of this, they are a better choice for people who want to do all of their online banking in one place.
They don't have any actual sites, just like Vio. That has advantages and disadvantages. But Axos easily takes the top spot on our list because of its high APY and useful, cutting-edge features that put digital natives first.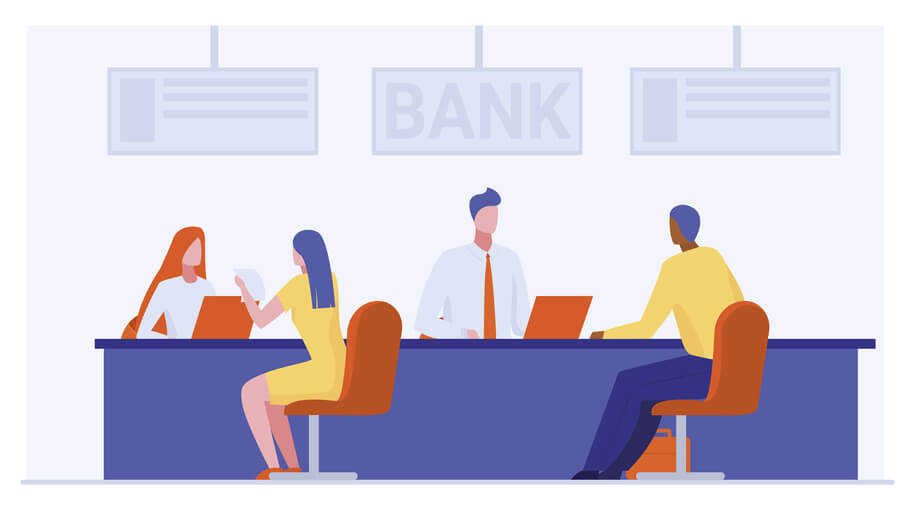 Featured Image: Freepik @ rawpixel.com