The Curve DAO market has experienced a bullish cycle in the last 12 months, which has led to increasing speculation, including uncertainty around the Curve DAO price prediction. However, both AI and human analysis suggests that there is a clear indication of a positive trend in the future. While we see what the future holds for the price point of Curve DAO, you can learn how to farm curve DAO tokens so that you're prepared in case you want to invest.
How Does Curve (CRV) Work?
Curve has gained momentum as one of the most popular platforms in DeFi. This is due to the fact that it prioritizes stability over volatility and speculations driven by artificial intelligence. Curve offers a highly efficient way to swap tokens using low fees by accommodating only liquidity pools made up of assets such as stablecoins that perform the same way. This practice amounts to a lower yield reward for liquidity providers who supply the pools with tokens. To compensate for this, Curve rewards the liquidity providers by paying their rewards as CRV tokens and interests. The Curve DAO is then regulated by the CRV token.
How to Farm Curve DAO Tokens (CRV)
Curve DAO token (CRV) is the token that powers Curve.fi, a decentralized exchange and automated market maker protocol. CRV is an ERC-20 token that is formed on the Ethereum network and is created using an Ethereum-based software called Aragon. The token is used to connect cryptocurrency smart contracts and control liquidity between trading pairs spontaneously using artificial intelligence.
A simple way to farm Curve DAO Tokens is by supplying liquidity to any Curve DEX Pool (Curve Y, Curve Compound, Curve PAX, Curve sUSD, and Curve bUSD). Supplying liquidity to any of these pools will make you entitled to CRV tokens which are directly proportional to the volume and length of the deposit. We will use Polygon as an example demonstration of how to farm Curve DAO Tokens.
To farm Curve DAO on Polygon, follow the steps below:
Go to the website https://polygon.curve.fi/

Connect your wallet and make sure it is set to connect to Polygon.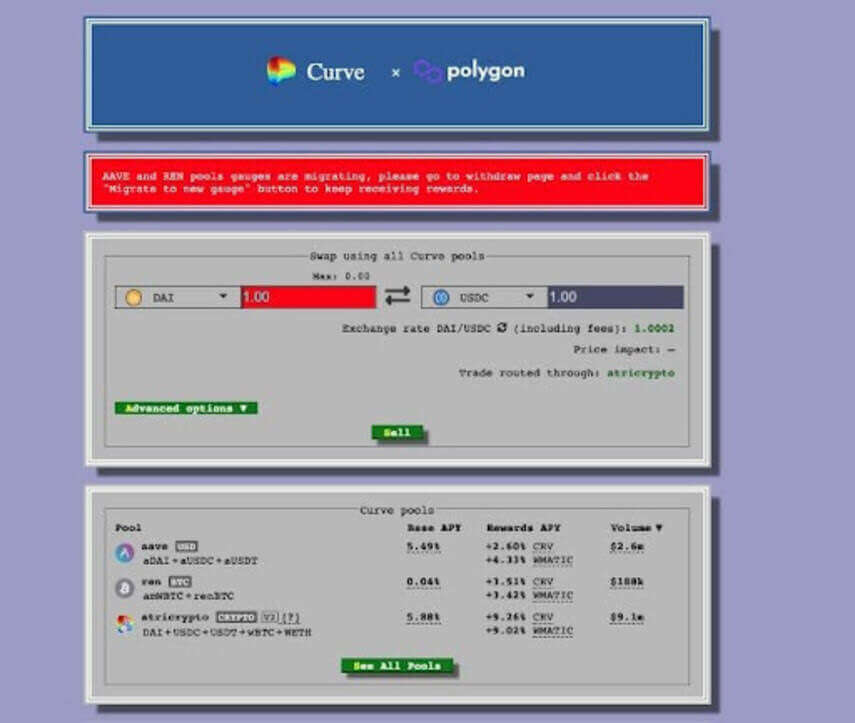 3. Click on one of the liquidity pools under the "Curve pools" section.
4. To deposit liquidity, click on the "deposit" tab. Select the available stablecoins to deposit and how much.
5. Click "deposit and stake in gauge."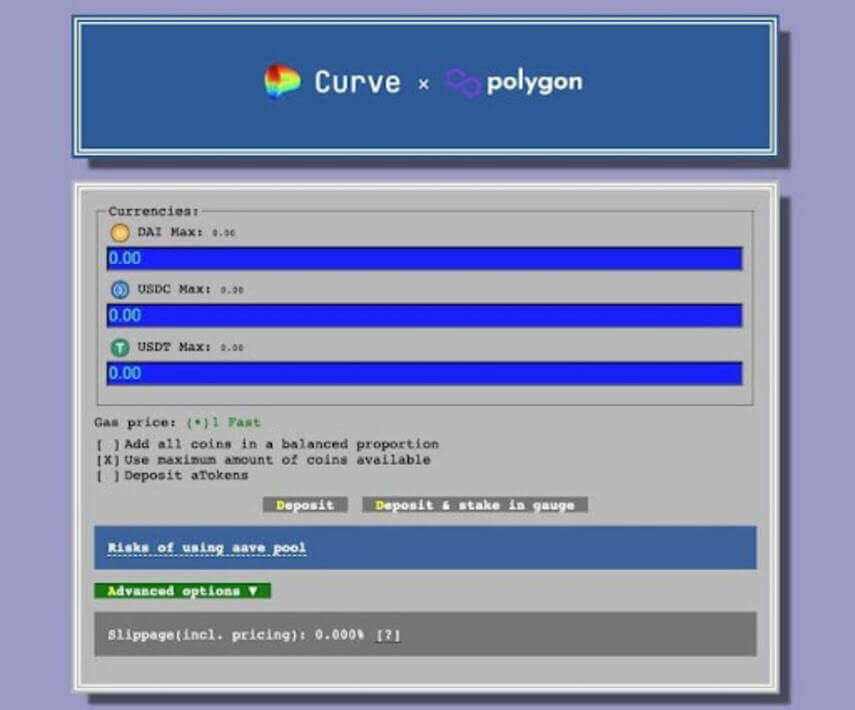 6. The default withdrawal option withdraws your liquidity pool token into your current basket. But you can choose to withdraw all into a specific stablecoin of your choice.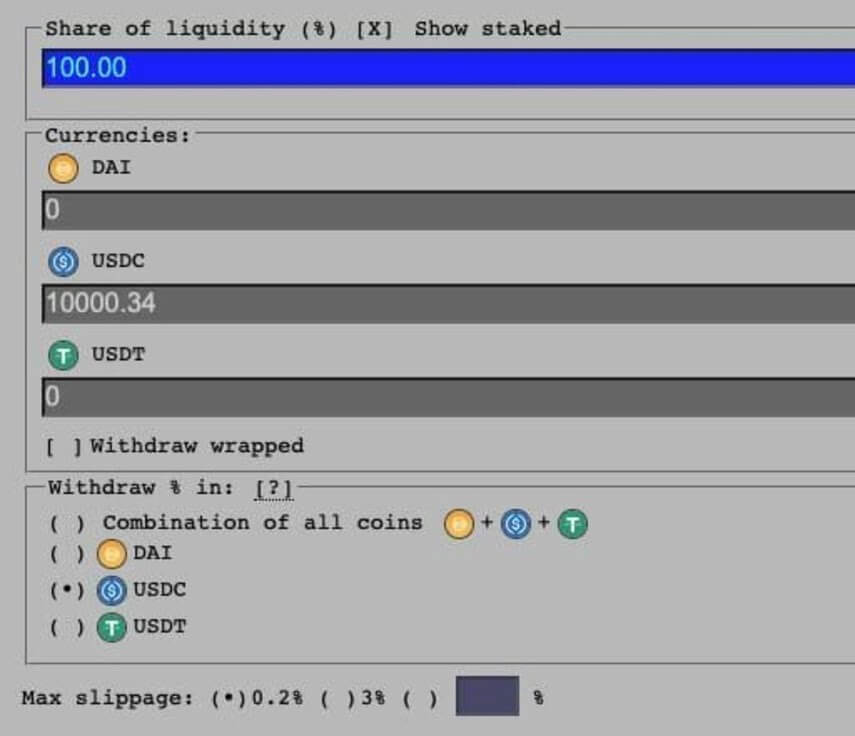 How Do I Stake Curve Dao Token?
To stake the Curve DAO Token, simply go to the Curve DAO dashboard and select the most suitable lock-up period to stake your CRV. The lock-up period can be between 7 days and 4 years if you are staking directly on Curve Finance. If your transaction is successful, you will receive a vote-escrowed Curve (veCRV) which makes you eligible to earn your 3CRV rewards. However, every time you have to claim your rewards, you pay transaction fees, also known as GAS costs. This is why it is advised that you allow your rewards to compound and accumulate so you do not spend too much GAS claiming small rewards.
During the lock-up period, you cannot access your CRV and you can withdraw before your lock-up period expires.
How Much Can I Earn Staking CRV?
Fees are collected from the protocol which is generated by trading 50% of all trading fees on Curve as well as any other fees. All of these are what is used to generate the APY; the result is that the higher the trading volume on Curve, the higher the APY for stakers.
Your total earnings on CRV is dependent on how long you lock up your stake, and as expected, stakers locking up their stake for 4 years are entitled to the highest available APY.
Below is how your earnings are calculated when you stake Curve DAO tokens:
1 CRV locked for 4 years will yield 1 veCRV
1 CRV locked for 2 years will yield 0.5 veCRV.
1 CRV locked for 1 year will yield 0.25 veCRV
1 CRV locked for 0.5 years will yield 0.125 veCRV
Some risks come with staking CRV, which is why it is pertinent that you do your research and consider these risks before investing. Some of these risks include the smart contract risk and lock-up periods.
How to Buy Curve Dao (CRV)
Simply open an online account with a broker that supports Curve DAO trading. Before you open an account, consider the following:
Availability in your immediate locality. Confirm that your broker can open accounts in your country before you initiate your application process.

Make sure your preferred broker platform allows you to buy and sell other assets apart from CRV before you register with them.

The trading platform also provides additional educational resources and tools that allow for an easy buying experience.
2. Buy a crypto wallet where you can safely store your tokens if you do not plan to actively trade your CRV. You can either use a hardware wallet that stores your coins and tokens in an offline account, which offers you the highest level of security for your crypto investments. Software wallets are applications that are on your mobile device or personal computer and are useful if you are storing a small amount of crypto.
3. Make your purchase and wait for your order. The best places to buy Curve DAO include Gemini, Dharma, Coinbase, and Kraken.
Final Thoughts
If what you are looking for is a virtual currency that offers good returns on investment, CRV might be a good option for you. According to the cryptocurrency and smart contracts artificial intelligence analysis, there are future positive trends that show that the Curve DAO might be a profitable investment. The curve DAO price prediction is that a $100 investment today will be worth $570.07 in 2027.
If you do decide to invest in Curve, remember to diversify your portfolio with other DeFi projects to mitigate potential losses. Always do your research before investing and make sure you can afford to lose what you invest.
Featured Image: Megapixl