Blockchains, which are decentralized public ledgers, are used to verify crypto transactions. Many blockchain projects enable users to stake their cryptocurrency assets in a way that verifies network transactions. This helps to guarantee that blockchains function smoothly and reward stakers.
Proof-of-stake networks, which rely on mining to validate blocks by solving complicated mathematical equations, process transactions in a more energy-efficient manner. These staked assets are used to compensate the validators, who are paid with more shares of the cryptocurrency that they have staked, often calculated using staking calculators like the Algorand staking calculator (in the case of ALGO).
So, staking is an excellent way to earn rewards in cryptocurrency while also contributing to the success and security of a blockchain. Keep reading to learn how to stake the popular asset Algorand, which has performed consistently well from its ICO up until now.
What is Algorand?
Developed to simultaneously address the blockchain trilemma of attaining speed, security, and decentralization, Algorand is a decentralized network that uses proof of stake protocol to validate nodes in its network. It uses the proof-of-stake consensus mechanism which is optimized for fast transactions while maintaining low energy costs.
Furthermore, Algorand supports smart contracts, which are network-based, immutable agreements. These smart contracts can be combined to develop decentralized apps that operate on the blockchain like software does on a computer. Additionally, Algorand enables the creation of non-fungible tokens (NFTs) that are kept on the blockchain and equipped with a unique identifier to establish ownership.
Everyone who owns at least one ALGO earns Algorand rewards proportional to their ALGO holdings. In addition, each address with one or more ALGOs in a non-custodial wallet qualifies for the reward, excluding Algorand faucet wallets. This is because Algorand is a pure proof-of-stake blockchain.
Additionally, the network is extremely unlikely to split because Algorand is based on a pure proof-of-stake consensus method. Here, users are chosen randomly and privately to propose blocks and vote on proposed blocks. Each online user has the opportunity to be chosen to propose and vote. The probability of a user being picked and the weight of its suggestions and votes are proportionate to its stake.
The rules of exchange and policies determine if wallet addresses handled by exchanges qualify for the reward or not. The Algorand Foundation determines and funds the current distribution of rewards.
How to Stake
Rewards are available to those with more than one ALGO in their wallets. Exchanges occasionally allow for the earning of rewards with a balance of less than 1 ALGO. Algorand faucets sites allow for earning ALGO by doing simple tasks. At the moment, the awards provide an APY of roughly 5%. The rewards are earned each time there is a transaction on a wallet. These staking rewards are an excellent source of passive income.
Algorand Staking Procedures
Staking ALGO on an exchange is straightforward. Most exchanges provide staking incentives on your ALGO balance; all you have to do is join by holding at least 1 ALGO.
Binance, for example, provides custodial services, which enables them to distribute rewards to users in accordance with their terms and conditions. They earn staking rewards in the same way as any other Algorand address with at least one ALGO. Binance backed the third semi-annual delivery of the Algorand (ALGO), 200 Million ALGO Staking Rewards Program, as of March 2021. The distribution took place in the following manner:
Total ALGO staking incentives obtained by Binance = Total ALGO staking rewards earned by each user/ratio of user holdings.

The ratio of user ALGO holdings = User ALGO holdings / Total ALGO staked by Binance
Furthermore, Coinbase simply needs investors to activate staking rewards in their settings and agree to the company's terms of service. Then, Coinbase receives a percentage of your staking rewards in exchange for the custody of your ALGO on its network. Again, this commission is negligible and should pose no difficulty for investors who already use Coinbase for its user-friendly interface.
Crypto.com allows for soft-staking on a user's ALGO balance, although at a lower APYs other than some exchanges.
Kraken is a major exchange that, in an unusual move, does not enable customers to receive staking incentives on their ALGO balance. ALGO may also be staked without using an exchange, simply by storing the cryptocurrency in a wallet. Thus, if you utilize Kraken, you may receive incentives by transferring your ALGO to a cryptocurrency wallet. These hardware or software wallets will earn rewards every time a transaction is completed.
Users can earn up to 3.98% per year using Bitsmap. Note that the magnitude of the rewards depends on the amount staked and the level of competition for staking over the whole blockchain.
Step by Step ALGO Staking on Binance
Step 1: Go to the Locked Staking Page.
After logging into your account, navigate to Finance -> Binance Earn on the top panel.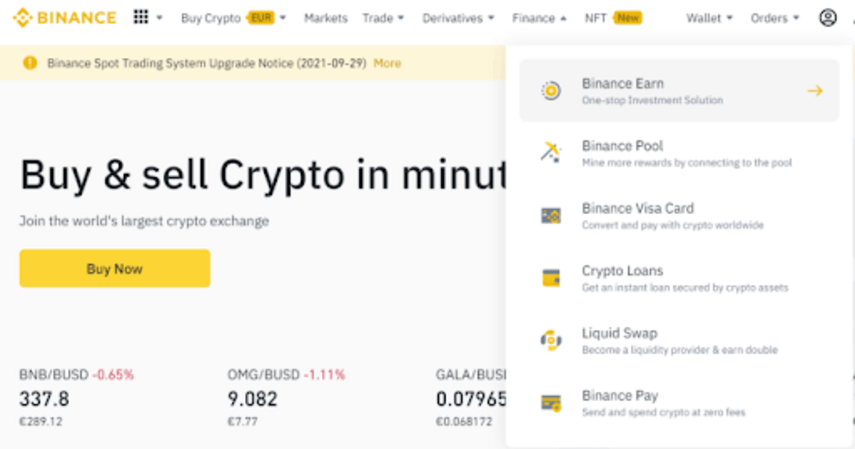 Step 2: Locate the "Locked Staking" section and click "Go to Staking".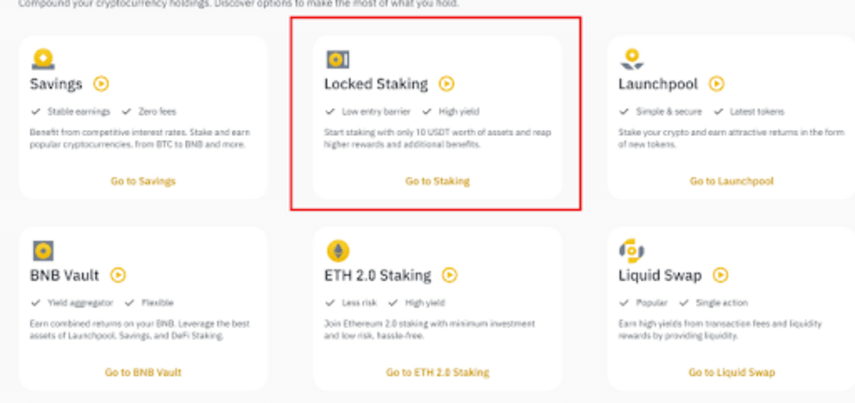 Step 2

: Browse through the available staking options to identify $ALGO and click stake.
Step 4: Review the Staking Parameters and Stake.
Select "Duration" and "Lock Amount" from the left side. Binance provides four staking periods: 15, 30, 60, and 90 days. Choose the period that suits you and stake it.
After entering the values and verifying that everything is correct, check the agreement checkbox and click "Confirm."
Congratulations! You have just staked your $ALGO and will immediately begin earning interest.
Staking Algorand Using Hardware Wallets
Staking $ALGO on a hardware wallet such as Ledger is equally simple.
The first step is downloading and installing the coin's (ALGO) Ledger software.

Create a new Ledger Live account and move the coins you wish to stake.
As easy as that you're finished!
However, there are more advanced options available to you. For example, you can utilize coins stored in your Ledger wallet but manage them with other wallets. Staking using this method is identical to the previous approach, except that you pick third-party cryptocurrency storage after step one. Following that, you must transfer $ALGO from your wallet to Ledger and begin staking.
Take note that the third-party wallet is responsible for managing your cryptocurrency.
Is Algorand Staking Worth It?
Staking ALGO might prove to be a highly successful enterprise as its price continues to rise, as experts have a positive outlook for the Algorand price prediction for 2030, expecting it to be on par with top coins. If you possess a substantial quantity of ALGO, grow your holdings through staking, and as the Algorand price prediction for 2022 continues to rise, you will earn a sizable passive income. Staking in conjunction with a price runup is likely to outperform investing in a cryptocurrency that does not reward staking. Additionally, the extraordinary ease of ALGO staking attracts novice cryptocurrency investors.
Conclusion
There is simply no better way to acquire cryptocurrency passively than through staking. However, it is extremely prudent to keep in mind that crypto-staking and crypto investing as a whole involves high risk; thus, it is necessary to conduct extensive research, make use of staking calculators, and make informed choices. Best of luck with your staking!
Featured Image: Megapixl