One of the best ways to make money in the crypto space is by staking crypto assets. You can earn interest when you stake assets like Luna by simply locking them into a crypto wallet. How much can you earn from Luna staking? Keep reading to find out how much you can earn.
Will Luna Go Up?
LUNA's price has attained a new high of $61.15. Many people are speculating on the future of the token and it's value, making a wide variety of terra LUNA price predictions. While no one is certain about what will happen to the price of the lunar coin crypto, you can benefit from the current surge by staking terra LUNA.
Where Can I Buy Terra Luna?
In order to stake LUNA, you first need to buy some coins. It's essential to research the exchange platform you use to ensure it is authentic and genuine. Follow these simple steps to find the best platforms to purchase LUNA from:
Go to the Coingecko web page.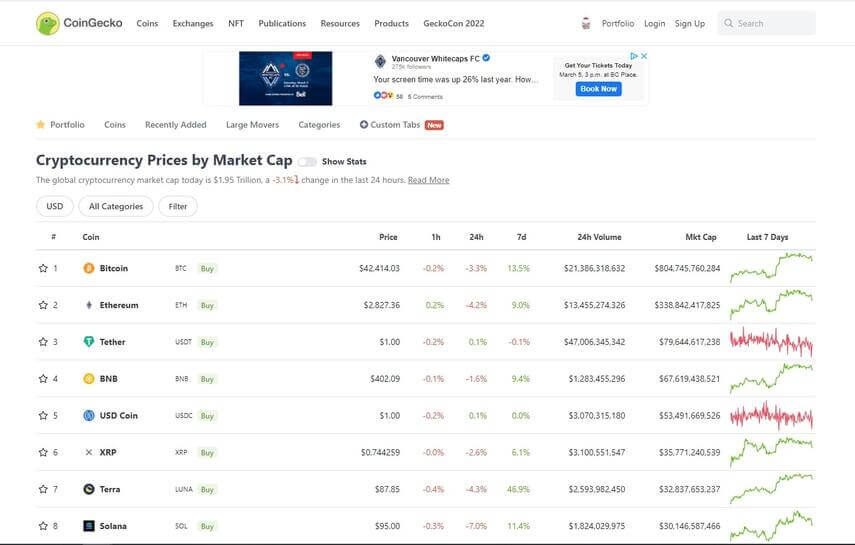 2. Search for terra LUNA and select it.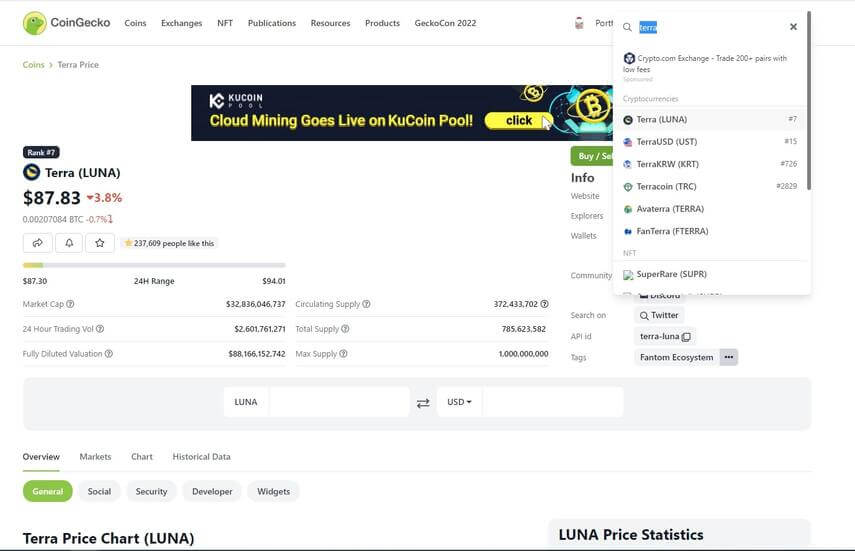 3. Look for the tab named "Markets" to see a list of the available markets to choose from.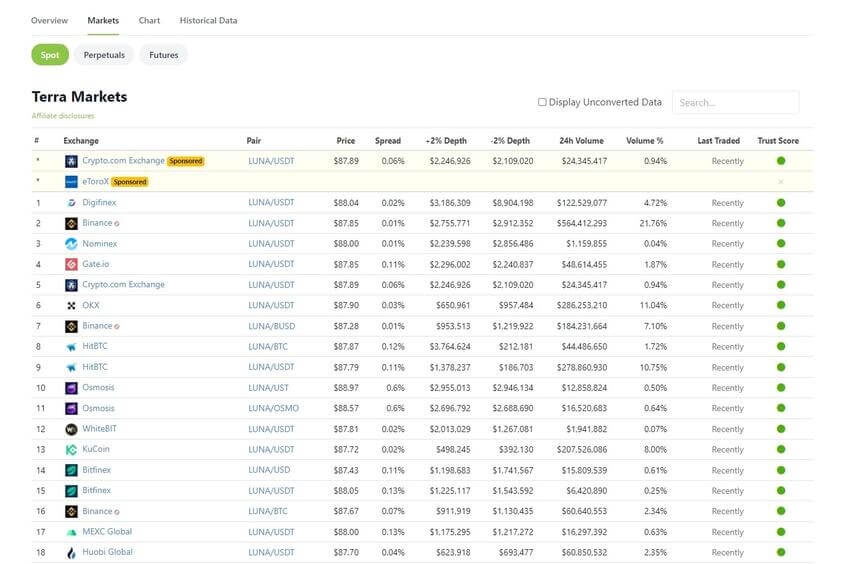 Note that some of the market options you will see listed are sponsored. If you are looking for the biggest markets for the LUNA crypto coin, Bitfinex and Binance are the best places to look. And if you are looking for a convenient place to buy and earn, you can buy from Binance and deposit your LUNA crypto coins with Binance Earn to get your staking profits.
How Does Terra Luna Work?
LUNA was built to create stablecoins—tokens that merge the decentralized freedom of cryptocurrencies with the steadiness of fiat money. LUNA is an integral part of this dual-token system. That is why it is called a staking or protocol token.
The LUNA coin was created on the terra blockchain and is one of the most extensive dual-token systems. It's network consists of two tokens with an unconnected value that are intertwined. These two tokens are the stablecoin TerraUSD (UST) and the LUNA.
UST is minted when LUNA is burnt, and it can also be exchanged for LUNA. For instance, if the value of UST increases by $1, the LUNA equivalent will be burned. This action results in the minting of more UST, which reduces the value of UST. Alternatively, if the market value of the UST decreases by $1, they are exchanged for LUNA, thereby increasing the value of UST.
This interdependence of these tokens gives LUNA its market value and helps UST remain stable. LUNA exists on its local blockchain, while the Terra USD stablecoins can be found on the Ethereum blockchain network.
There are a limited amount of one billion LUNA coins in circulation. If more than this amount is minted, the excess LUNA will be burned.
How Do I Stake Luna?
The simplest way to stake your LUNA and still earn massive profits is by delegating your LUNA. Running a validator node is tasking and demanding. You can still earn for doing practically nothing by delegating. Another advantage of delegating your LUNA is that you do not have to meet any minimum requirements before you can stake them.
When you stake LUNA, it will be locked and inaccessible for a minimum of 21 days from when the transaction was confirmed and approved. It becomes the responsibility of the validators to report and update the current market price accurately. Validators who fail to perform their tasks will slash their tokens by 0.05%. This means if you have delegated to this validator, you lose 0.05% of your stakes. In simpler terms, your potential earnings are highly dependent on the performance of your validator. When your validator fails to perform at an optimal level, you will not earn anything, and when your validator is up, your earnings also go up
Binance Earn is one of the best platforms that offer tremendous interest and staking opportunities. To earn interest on Binance Earn, there are two options you can choose from. The Flexible staking offers flexible withdrawal options, while the locked staking allows you to lock up your stake for up to 30 or 60 days. However, if you need a high-interest return on your stake, the locked staking option has the best offer.
How Do I Earn Interest on LUNA?
The creators introduced Terra LUNA staking as a means of helping investors earn rewards on the platform. Investors stand to receive up to 3.8% annual returns when they stake at least 0.1 LUNA tokens.
Earning with LUNA can happen in two ways. The first is by direct staking as a validator delegate running a validator node and being among the first 100. Another way to earn is by delegating your LUNA to any validators in this category.
Your earnings depend on the total amount of transactions carried out in the Terra economy. Interests on LUNA are earned from transaction fees, gas, and seigniorage rewards. And since staking rewards are highly dependent on inflation, you are entitled to earn a whopping 25% annual interest on your staked LUNA. You can calculate how much you'll earn from LUNA using the staking rewards calculator.
If you're considering LUNA staking, you may also want to look into the SafeNet Luna. This is a device known as High Assurance Hardware Security Modules whose function is to protect private data and essential applications by storing, saving, and overseeing cryptographic keys. The SafeNet Luna SA is a network-attached HSM that works by incorporating them with a range of applications that speed up the rate of crypto processes, protect the crypto key from infiltration, and provide the cryptocurrency's flexibility and scalability. They are easy to use, and above all, they are available in different models, all of which are affordable and offer the same benefits—the SafeNet Luna SA 7000 price ranges from $16,200 to $36,500.
Final Thoughts
There are several predictions about the price of LUNA coins. While WalletInvestor believes that it will continue to run bullish, DigitalCoinPrice strongly opines that the coin has the potential to increase to $65.89. These are mere predictions, and as we all know, predictions are not always accurate. So, due to the unpredictability of the LUNA coins, investors are advised to invest only the amount of money they can afford to lose.
Featured Image: Megapixl