What is THORSwap?
THORSwap is a decentralized exchange platform that allows holders of the Binance Chain token – also called BEP2 tokens – to convert their BEP2 tokens for another. It also allows users to add deposit assets into liquidity pools so they can earn trading fees for providing liquidity to the market. Just like everything else, adding liquidity in THORSwap comes with its own risks. When you provide liquidity to liquidity pools, you stand to risk a permanent loss.
What is Cryptocurrency Liquidity?
Liquidity is an aspect of finance that cuts across both centralized and decentralized finance. Liquidity plays a crucial role in determining how easily assets are sold and acquired. Crypto brokers and exchanges collaborate with liquidity providers who, to a large extent, influence the crypto financial market. This leaves people with an important question: who are the top crypto liquidity providers and what are the things to consider before dealing with them?
Here are 3 of the crypto liquidity providers:
B2Broker

has the most advanced liquidity aggregating technologies. They offer partners the deepest and largest liquidity pool in several markets such as Forex, cryptocurrencies, metals, etc. Traders can process their orders between 12 milliseconds and 6 minutes.

FXCM Pro

has the best liquidity management team. Their team can sort out the most efficient liquidity providers and exchange platforms that cater to every need, regardless of how large or small they are.

Leverate

functions by matching the best ask and bid prices and provides brokers with the lowest spreads available. With leverate liquidity, clients are always guaranteed stability and consistency.
How to Stake RUNE
It is no longer possible to stake RUNE using a Binance Chain Wallet. However, users can add liquidity equally with RUNE and a pair of assets in liquidity pools on THORSwap. Under this circumstance, rewards are spontaneously compounded. The steps below will guide you through the process of adding liquidity to THORSwap.
1. Install your Trust Wallet Mobile app on your device. Add a BNB wallet then deposit BNB (BEP2) into your wallet.
2. Connect your wallet to THORSwap. To do this, go to THORSwap.com and click on the "Try Now" button to open up the Pools.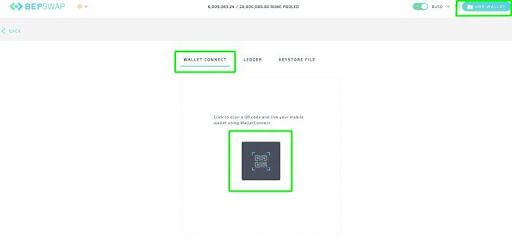 3. Click on the "Add Wallet" icon in the upper right corner of the website. Select "Wallet Connect" then click on the QR Code to get it to populate.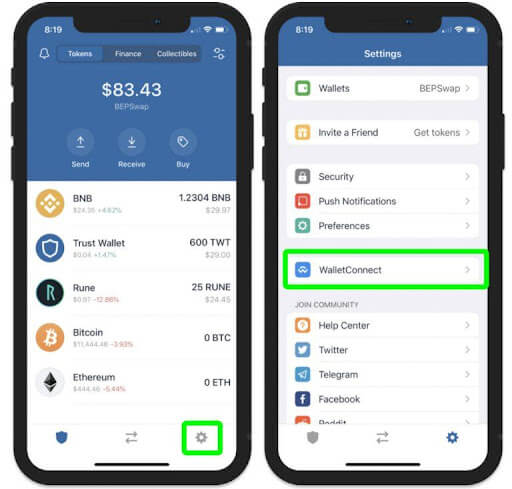 4. The QR Code should be visible on your screen now. Then you can open your Trust Wallet app, go to settings then select WalletConnect.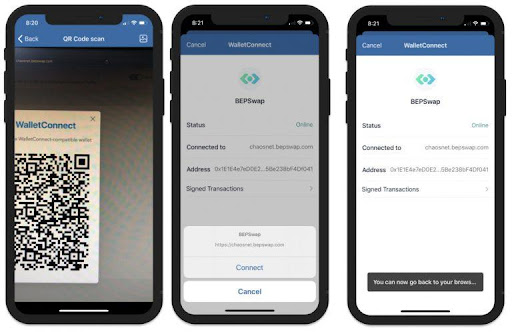 5. Scan the QR Code on your browser. Select "Connect" to successfully link your Trust Wallet to THORSwap.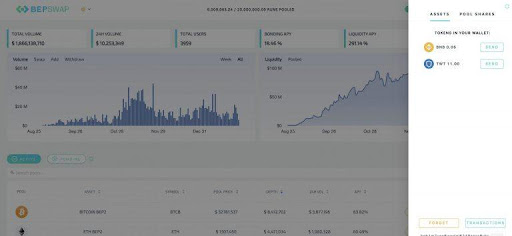 6. On the THORSwap website, your BNB address should be visible if the link was successful. You will see your BNB address together with the BEP2 tokens in it. To see your available balances, click on the address in the top right corner of the website.
7. From the homepage of THORSwap Pools, select the asset you want to deposit liquidity into. For example, the image below shows the Trust Wallet Token, TWT, and RUNE pool which has been chosen for the sake of this guide.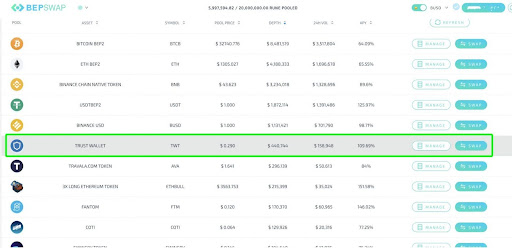 8. Click on the "Add" button in the top right corner of the assets profile.

9. Select how many asset pairs you want to add to the liquidity pool. Note that when you add liquidity to this pool, you add an equal value which is shown on both sides of the pair. Use the bottom slider from left to right to begin the transaction.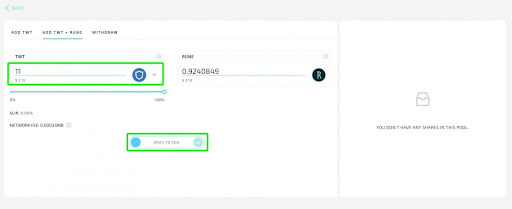 10. Go to your trust wallet, connect and confirm the transaction by clicking "OK".
11. Allow transactions to confirm and complete on the blockchain.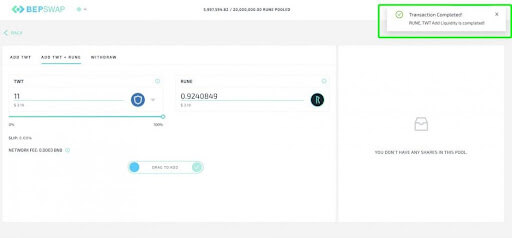 To protect your wallets, it is advised that your Binance wallet's private keys should be used only for transactions such as recovering your Keystore file, hardware wallets, or mobile wallets. Do not use your Binance private key to open your wallet every time else. Otherwise, you risk losing your wallet to scams, phishing websites, and fraud applications.
You can take further precautionary measures to protect your wallet by using the node crypto generate key, which is an inbuilt application programming interface that allows you to generate an asymmetric pair of specific keys. This is an aspect of cryptography that provides security against cyber-criminals.
How Much Can I Earn Adding Liquidity to THORSwap?
Liquidity providers earn yield in return for depositing their assets in liquidity pools. They receive tokens in RUNE and whatever asset is connected to the pool. For example, anyone who deposits in the BTC/RUNE pool will get their compensation in BTC and RUNE.
Liquidity earnings are calculated based on whether swap transactions happened in the block or not. If swap transactions happen in the block, the reward is determined by the number of transaction fees collected per pool. If swap transactions did not happen on the block, the reward is determined by the number of assets in the pool. The yield is paid out to the liquidity providers when they remove their assets from the pool.
The following factors also determine liquidity yields:
Swap Volume – The higher the swap volumes, the higher the fees. This in turn means a higher reward for the liquidity providers.
Swap Size – Larger swaps result in higher price slips, leading to higher transaction fees.
Change in Price of Assets – A change in the price of assets means that the liquidity providers will gain more of one asset and less of the other. This may result in a fluctuation in yield if the yield is priced and calculated in a third asset such as USD.
% Ownership of Pool – Providers who own more pool percentage will get more of the pool's yield.
The present earnings for depositing RUNE in THORSwap liquidity pools is about 290.85% and the bonding APY is about 18.44%. However, for a different earning rate, RUNE holders have the option of bonding RUNE as a node operator.
Final Thoughts
All it takes to access a world of assets and liquidity pools is a clear understanding of what a liquidity pool is and how the Binance Smart Chain network works. Once you have grasped how these works, get yourself some BNB tokens and the Trust Wallet and launch into a whole new world of passive income.
Featured Image: Megapixl