How Risky Is Bitcoin?
If you're wondering about Bitcoin security, know that you're not alone. Many of us have been watching as crypto prices skyrocket–and just as easily fall. So while there are large gains to be had, the question remains. Is Bitcoin safe?
The first thing we should ask is: are banks safe? The answer for the most part is yes. While consumer banks are at risk due to their location and economic circumstances, there's still some comfort in knowing that they're monitored by government institutions such as regulators who can help prevent any financial wrongdoing from happening on behalf of consumers or investors alike.
Still, this regulation often doesn't ease the burdens of price increases, inflation, and supply shortages we are seeing now that affect you and me, the average consumer.
So if the banks are safe, but not for the average consumer, what does this mean for our finances? Consumer-grade bank accounts depend on their respective countries' economic conditions; if that changes drastically your money will no longer have any value compared to other currencies or commodities priced against it (like oil).
What this means is there's always some degree of risk associated with owning fiat currency – Venezuela's Bolivar crisis has reached over 2,000,000% of hyperinflation. Now, one 1 VEF was worth 0.00000023 US. Leading some Venezuelans to denominate their currency by weight instead of amount.
The question we are here to ask is: As the timeless story of ever devaluing currencies repeats itself, are our savings safe? We live on the assumption that this is so, while the US consumer price index rose 5.1% in 2021, with Canada trailing at a 4.1% increase. Put together the added strain on supply chains, ESG initiatives, and taxes meant to reduce emissions, and another massive housing bubble, and what do we have? Potential hard times ahead.
The pandemic has strained supply chains, yet there are a number of other factors at play such as pandemic recovery and massive worker shortages. It's best not to sugar coat it: It is possible we may be getting into yet another financial crisis in 2021 and into 2022. The purpose of this article is to determine whether or not the alternative to FIAT currencies, Bitcoin, is a safe investment. Let's get into it.
Bitcoin as Alternative
1) A Bank Account vs. a Private Key, Wallet Security, & Cold Storage
According to Forbes, 73% of Americans bank online via PCs and mobile devices. However, the convenience of online banking does not come without risks.

Identity theft is common, so are viruses and malware, some of which record your keystrokes and track the websites you visit. Setting up a strong password, 2FA (Two-Factor Authentication), anti-virus programs, and banking alerts are all important to keep your banking info safe in the digital realm.

So what about if you own Bitcoin? You can't store it in Bank of America or Royal Bank of Canada (yet!). So, how do you keep your bitcoin safe? What can I do to improve my Bitcoin security?
What is a Bitcoin wallet? First of all, it's not leather and you can't buy one at a department store. A bitcoin wallet is software that stores your bitcoin and has an address required for receiving and sending bitcoin. Your wallet stores the public and private keys required to buy, sell and validate transactions.
Hot Storage vs Cold Storage "Wallets"
Hot storage wallets are directly connected online via mobile or desktop apps. Desktop wallets are applications that run on your computer and hold your digital currency. Using this kind of wallet allows great control of your bitcoin, but you must secure your computer with strong passwords and anti-virus software because recovering a lost bitcoin wallet will not be easy.
Some examples of desktop hot storage wallets include Exodus, Atomic Wallet, BitPay, and Bitcoin Core.
Mobile hot storage wallets are just like desktop hot storage wallets but on your cell phone.
Web-based hot storage wallets exist as well. These allow you to access and store bitcoin and send/receive transactions without downloading an app. Coinbase is a good example of a beginner-friendly web wallet where you can also buy bitcoin directly, along with other cryptocurrencies.
Cold storage means storing your bitcoin into a physical hard disk such as a USB. While this greatly secures your bitcoin against thieves using digital means, you can still lose your cold storage wallet, or have it stolen.
In one instance, a UK man realized that he'd accidentally thrown out a hard drive with over 7,500 bitcoins stored. As this was cold-stored, he had no backup or recourse other than to find the drive. Currently, he is attempting to gain access to his town dump through his local municipality, using AI and x-ray scanning technology to find his lost 0-million worth of Bitcoin.
2) Bitcoin Is Volatile (One Way to Hedge Is Dollar-Cost Averaging)
Bitcoin is decentralized. No bank or government can support or lift up the Bitcoin market to artificially stop volatility, according to Ria Bhutoria, former director of Research at Fidelity Digital Assets. In June of 2021, Bitcoin dropped almost 30% in price to about $30,000 USD.

A fundamental factor in the volatility of bitcoin is government reaction. While they cannot directly regulate bitcoin itself, authoritarian states can regulate the people trading and mining (creating) bitcoin. China has cracked down severely on Bitcoin miners and has banned all cryptocurrency trading as of this year. This announcement coupled with Elon Musk's refusal to sell Tesla cars for Bitcoin caused the currency's values to drop by the largest amount yet.

According to CoinDesk's Bitcoin price chart, Bitcoin was at $29,789.94 on July 20, 2021. As of October 15 at the time of writing, this rose over 100% to $61,319.59. Talk about volatile! While this may scare away many people from investing in Bitcoin, the other side of the digital coin is that it might go the other way, as we have seen this year.

Many crypto enthusiasts believe in the million-dollar bitcoin one day. This doesn't mean you should believe them, but keeping a lower % of your portfolio in crypto might be a good idea while you learn the nuances of the crypto market.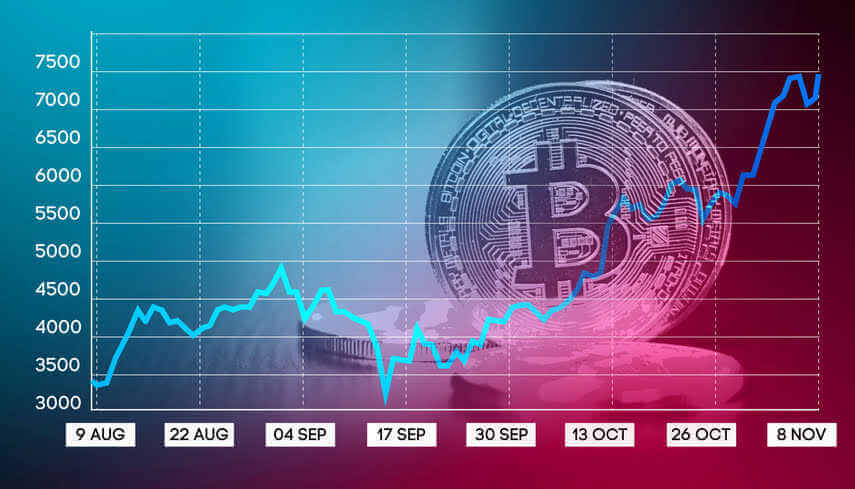 One way to hedge against the volatility of Bitcoin is dollar-cost averaging. For example, let's say you wish to invest $1,000 in Bitcoin. Instead of taking a position with the full amount, you can make 5 investments of $200 over a period of several months. If the value of Bitcoin slowly rises as you invest this way, you will generate a greater return.
3) Scams
Here's a short checklist to go through when looking at a company, initial coin offering (ICO) or simply investing in Bitcoin or another cryptocurrency through a website:
Is the website or company on a blockchain and verified?

Make sure that the company is blockchain-powered and records detailed transaction data.

Do they have a business plan and solve real problems?
Does the company specify digital currency liquidity and ICO rules?
According to the IT security firm Kaspersky, there are 4 common crypto scams that everyone needs to know about and knowing the fundamentals of Bitcoin security will help protect you against these scams:
Fake Mobile Apps
Make sure any app related to crypto you download on your mobile device is verified by Play Protect or the Apple Store. Do not download crypto apps from questionable websites or outside the App Store or Google Play store.
Bad Tweets and Social Media Trolls
Individuals have gone to prison for Crypto Pump and Dump Schemes, including John McCaffee, infamous founder of Mcafee AntiVirus.
Scam and Phishing Emails
Scammers have gotten increasingly sophisticated. Take care with any crypto-related communication you receive. There are very believable crypto email scams that have hit even the savviest investors in recent years.
Websites Pretending to Be Legitimate
Make sure the URL of any crypto exchange or website you're visiting is legitimate. Read up on past mistakes and keep up to date with the news about crypto fraud to avoid these types of websites. Always make sure any website you visit is secured with HTTPS in the URL.
The Big Picture
Ultimately, at this time, the safety of your bitcoin depends on you and your knowledge of the protections that you can employ to keep your bitcoin safe.

Is Bitcoin safe? It's definitely established itself as the dominant force in cryptocurrency, and despite its volatility, is still one of the safest crypto investments out there.

As time progresses, more standard financial institutions will be offering crypto via exchange-traded funds (ETFs) or equity. As more companies get into crypto and blockchain, experience says that the value of Bitcoin may rise as a result.

Only time will tell. For now, if you still want to invest in Bitcoin, the main recommendation is to buy and hold. Knowing about Bitcoin security will help inform your decisions. Please use your discretion when choosing any cryptocurrency as an investment, and do your research.
Featured Image: Megapixl